Welcome to the Melissa Sue Anderson Fan Page website. This page is
dedicated to the acting career of Melissa Sue Anderson.
The website is not an official website. It was created by a fan.
---
Melissa Sue Anderson has her own Facebook
---
New!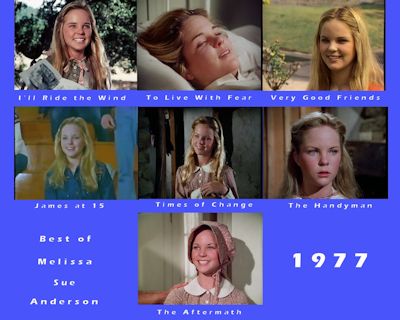 Best of Melissa Sue Anderson (1977) video
Season 6 documentary clips Season 5 documentary clips
---

Season 4 documentary clips Melissa Sue Anderson Casting clips
---

Melissa Sue Anderson at Genesee Little House Cast Reunion April 30, 2014
Country Museum on August 2 & 3, 2014
---
Follow this website on
---
Website exclusive
---
I became a fan of Melissa Sue Anderson when she played Mary Ingalls on Little House on the Prairie in the mid 1970's. I have included some of my memorabilia such as my fan club membership card. A collection of video clips and captures from Melissa's television and film appearances are included in the Filmography section. I met Melissa Sue Anderson during her 2010 book tour and we keep in contact through e-mail.
---
Today, Melissa Sue Anderson lives in the United States. She is married to Michael Sloan who is best known as the creater of the TV series, The Equalizer. Contrary to rumors on the internet, Melissa has dual citizenship in the United States and Canada.
Melissa is semi-retired from acting. She did write a book in 2010 called The Way I See It: A Look Back On My Time On Little House
.
She did a book tour in May 2010. I have included links to her publicity appearances (TV, Radio, fan videos and an interview for this website). Also, Melissa Anderson is now a member of Facebook.
She also attended the 40th anniversary reunion on the Today show on April 30, 2014.